I am originally from Lincoln, Nebraska, home of the Cheese Frenchee, which is an amazingly delicious deep fried cheese sandwich. Having just bought an Instant Pot Vortex Plus air fryer, I decided to try my hand at an air fryer cheese frenchee version. The result was great! By the way, you can read my Instant Pot Vortex Review for more info on the air fryer. See that yummy fried cheese below? The Instant Pot Vortex cheese frenchee recipe was a major hit!
Cheese frenchees are also sometimes known or spelled as cheese frenchies or cheese frenchys.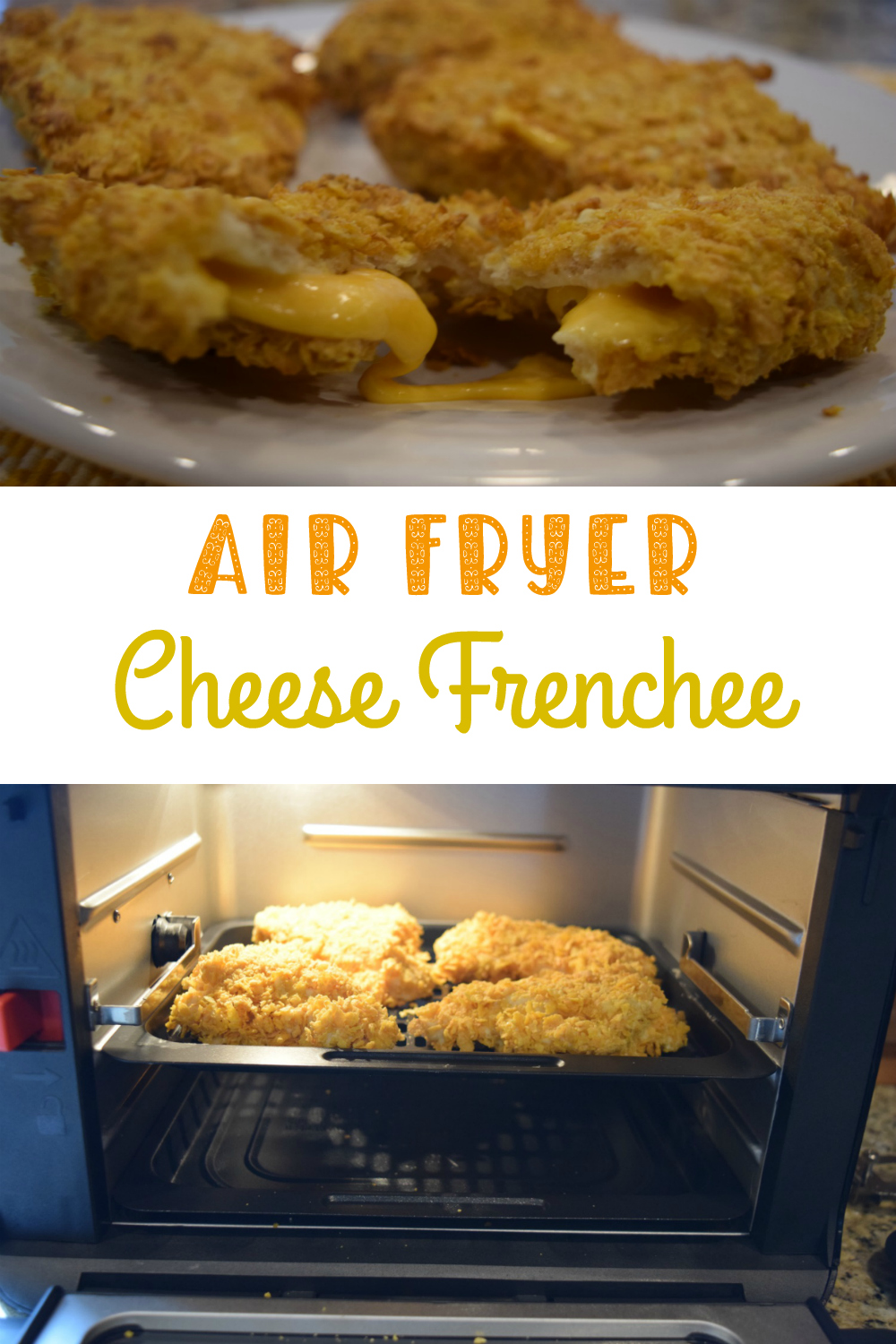 About the Cheese Frenchee
When I moved to Illinois I was surprised to find that nobody had ever heard of a cheese frenchee. Apparently it really is just a Nebraska thing. The Cheese Frenchee originated from a drive in restaurant called Kings' Food Host in Lincoln, Nebraska. King's was my favorite as a child, and they made not just great deep fried cheese sandwiches, but also wonderful burgers and onion rings. King's was eventually closed, but later reborn in part by a local fast food brand, Amigos/Kings, so the cheese frenchee made its return. A restaurant called Don and Millies in Lincoln and Omaha, Nebraska also makes cheese frenchees.
Air Fryer Cheese Frenchee Recipe
Normally, a cheese frenchee is deep fried at about 375 degrees. Using the air fryer makes it quicker and simpler. But, it still is a messy proposition as it involves dipping in a thick batter and rolling in corn flakes. Don't expect a super clean kitchen with these! But I find the messy dipping kind of fun.
My original deep fried sandwich recipe called for using crushed corn flakes, so I stuck with that, but you can use Ritz crackers, panko, or other break crumbs. You can also make variations of the frenchee such as a ham and cheese frenchee or tuna frencheee.
Start off by mixing up a batter of egg, milk, flour, and salt. Then crush corn flakes by putting them in a baggie and running a rolling pin over them.
For the sandwiches, typically the crust is cut from the bread, although you can leave it on if desired. Add mayo or Miracle Whip (another Midwestern thing it seems) to the bread and two slices of American cheese. You want all of the cheese under the bread, so fold it in half or cut it as needed. Then slice the sandwiches into triangles.
Now comes the messy part! Coat the triangles with the batter and then roll them in the crushed cornflakes. It is messy, messy, messy! But sort of fun too! I find that using a spoon to help coat them makes it a bit easier, but ultimately you will have batter all over your hands.
Lay the cheese frenchees onto an air fryer tray and air fry for 6 minutes, turning half way. I preheated the Vortex to 375 for the recipe.
When done, remove and eat while the fried cheese sandwiches are still warm. Air frying makes them healthier because no oil is involved. Although let's not kid ourselves here, these are still pretty decadent sandwiches. Not diet food by any means!
I was quite happy with the results of my air fryer cheese frenchee experiment. If you want to make these the regular way, deep fry them at 375 until golden brown.
Air Fryer Cheese Frenchee
Air Fryer Cheese Frenchee recipe. These deep fried cheese sandwiches originated in Lincoln, Nebraska. They are a fun take on the classic grilled cheese by being coated and fried! The Air Fryer makes them easier and a bit more healthy.
Ingredients
6 pieces of white or wheat bread, crusts removed
Mayonnaise or Miracle Whip to taste
6 slices of American cheese.
1 egg
1/2 cup milk
3/4 cup flour
1 teaspoon salt
1 cup crushed corn flakes
Instructions
Preheat the air fryer to 375
Spread Mayo or Miracle Whip on the bread
Add two slices of cheese folded in half to each sandwich
Cut the sandwiches into triangles
Mix egg, milk, flour, and salt to form a thick batter
Finely crush corn flakes and place in a separate bowl
Dip the triangles into the batter, coating all sides
Roll or dip the triangles in the corn flakes until fully coated
Air fry on a vented tray for 6 minutes or until golden brown, turning halfway though.
Serve warm
Notes
This is a rather messy recipe! Be prepared for gooey hands. But it is worth it!
Recommended Products
As an Amazon Associate and member of other affiliate programs, I earn from qualifying purchases.
Nutrition Information:
Yield:

3
Serving Size:

1
Amount Per Serving:
Calories:

378
Total Fat:

16g
Saturated Fat:

7g
Trans Fat:

0g
Unsaturated Fat:

7g
Cholesterol:

99mg
Sodium:

1462mg
Carbohydrates:

43g
Fiber:

2g
Sugar:

5g
Protein:

15g